Southern Auvergne
Escapades from our hotel and spa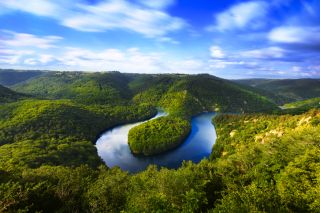 Enjoy the central location of our hotel and spa in the Haut-Lignon area of the Auvergne and set off on some unforgettable sweet escapes. In Haute-Loire, you get the Southern France of your dreams, with pleasant heat, pollution-free areas with fresh air guaranteed, mountains full of springs, vast horizons, and the wondrous rolling green and preserved landscapes.
Over a weekend or a longer holiday, you can discover our typical villages, where you will pass large holy sanctuaries as well as numerous small Romanesque chapels built through the centuries. Before you go crossing between the canyons of our rivers and our round volcanoes, known as the "sucs", you'll spot the first châteaux of the Loire!
Southern Auvergne is indeed a surprising place.
The Auvergne is also one of the largest preserved places in Europe with its five mountainous chains, its two regional nature parks (Volcans d'Auvergne and Livradois-Forez), its different territories and its four departments with different faces and landscapes, Haute-Loire, Cantal, Puy-de-Dôme and Allier.
Our region is ideal for a fitness or relaxation break. Our hotel in Le Chambon-sur-Lignon is the ideal pied-à-terre for a spot of exploring.